Failure Modes & Effects Analysis
ReliaSoft XFMEA software is praised for its ease of use while offering highly configurable analysis and reporting capabilities. It's a great tool for facilitating FMEA team workshops/meetings, combined with a risk discovery tool that offers enough flexibility to accommodate all FMEA techniques.
You can easily link the FMEA analysis to reliability block diagrams (RBDs) and fault trees. You can transform the FMEA findings into a representative reliability model of your system. XFMEA enables you to build a continuous knowledge repository of the FMEA results to be reused throughout the reliability program. XFMEA creates a thorough risk analysis and associated mitigation action strategies using methods and tools such as P-diagram, flow diagrams, test plans, DVP&R, and control plan.

Key Features
Supports all types of FMEA and FMECA to achieve higher reliability, safety and customer satisfaction
Allows multiple users to record and manage data using a centralized data repository
Saves time and promotes consistency within your organization by reusing relevant information from existing FMEAs
Highlights high risk items via RPN or Criticality Analysis
Integrates any FMEA with related analyses such as Process Flow Diagrams, Control Plans, Test Plans, P-Diagrams and interactive FMEA block diagram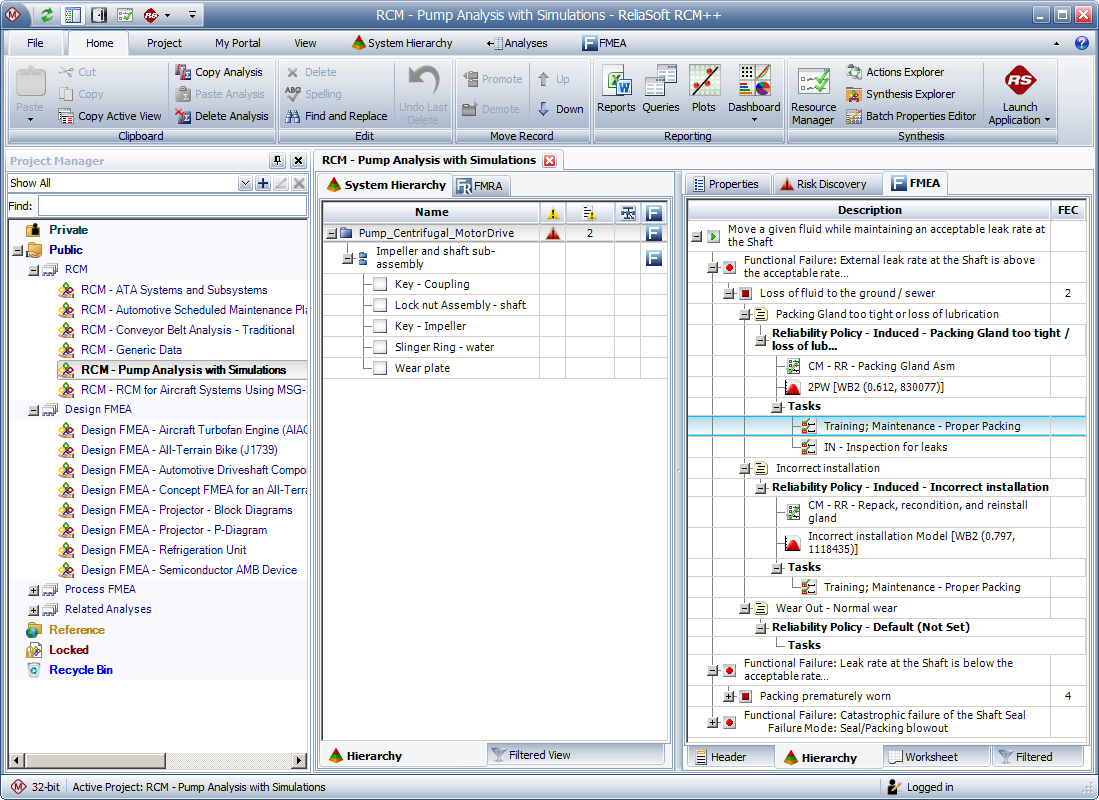 Benefits
Proactively consider potential failures, prioritize issues based on risk and then initiate improvements early in development when modifications tend to have the greatest impact for the lowest cost.
Create a keyword-searchable knowledge base of reliability-related information for your designs, which can contribute to the development of test plans, control plans, future design efforts and other activities.
Establish consistency throughout the organization's FMEA process and make it easy for multiple users to cooperate on the analyses.
Utilize charts,

 

reports, automated e-mails and other features to use the analysis information in ways that will effectively support decision-making and make sure that corrective actions are implemented.
Reliability Program Integration
XFMEA provides intelligent integration between reliability program activities and tools while simultaneously facilitating effective information sharing and cooperation between engineering teams of any size. The software allows you to:
Use models from analyses performed in other Reliasoft applications to set the reliability characteristics of the items and failure modes you're analyzing in XFMEA/RCM++/RBI.
Work with the same failure modes and reliability analysis (FMRA) in both XFMEA/RCM++/RBI and BlockSim. This allows you to take advantage of the more advanced system modeling capabilities in BlockSim without having to update and maintain two separate analyses.
Use FMEA data to build fault trees in BlockSim.
Transfer reliability prediction hierarchy and results from

 

Lambda Predict

 

as a starting point of your FMEA.
Share system configuration and failure mode data between XFRACAS and XFMEA/RCM++/RBI, with the ability to resynchronize on an ongoing basis.
Copy any system from an MPC systems and powerplant analysis into the more flexible XFMEA/RCM++/RBI system hierarchy in the same project.
Link with

 

SEP

 

so that dashboards can be shared within your organization without installing software, thereby promoting knowledge and efficiency.