Reliability Centred Maintenance Analysis (RCM)
Equipping your organization for best-practice RCM can contribute to the optimal maintenance strategy. If properly implemented, RCM can significantly improve asset reliability and performance, with an acceptable level of risk, in a cost-effective manner.
What is Reliability Centred

M

aintenance

(

RCM

)

?
Reliability Centred Maintenance (RCM) Analysis is a structured framework for identifying and analysing the functions and potential failures for a physical asset to preserve system functions, rather than preserving equipment.
RCM is not a type of maintenance, instead, it is about analysis, development and management of maintenance plans.
A rigorous RCM analysis is based on a detailed Failure Modes and Effects Analysis (FMEA). By achieving a high level of understanding of each identified failure mode/cause, their consequences and the likelihood of occurrence, you can determine the appropriate maintenance tasks that will provide an acceptable level of operability, with an acceptable level of risk, in an efficient and cost-effective manner.
Do any of the following statements resonate within your organisation?
"We have a concerning number of underperforming assets"

"

W

e are undergoing a significant change in the operating context or asset component configuration"

"We need to optimise our maintenance plans

to improve our availability and costs

"

"We need to improve our

productivity, ensure our equipment is running as best as it could be

"
If any of these statements sound familiar your business could benefit from conducting an RCM analysis. We can assist you in revitalising your organisations approach to understanding your assets performance that are causing you to feel the pain.
What can

HolisticAM

help with your

organisation's

RCM projects?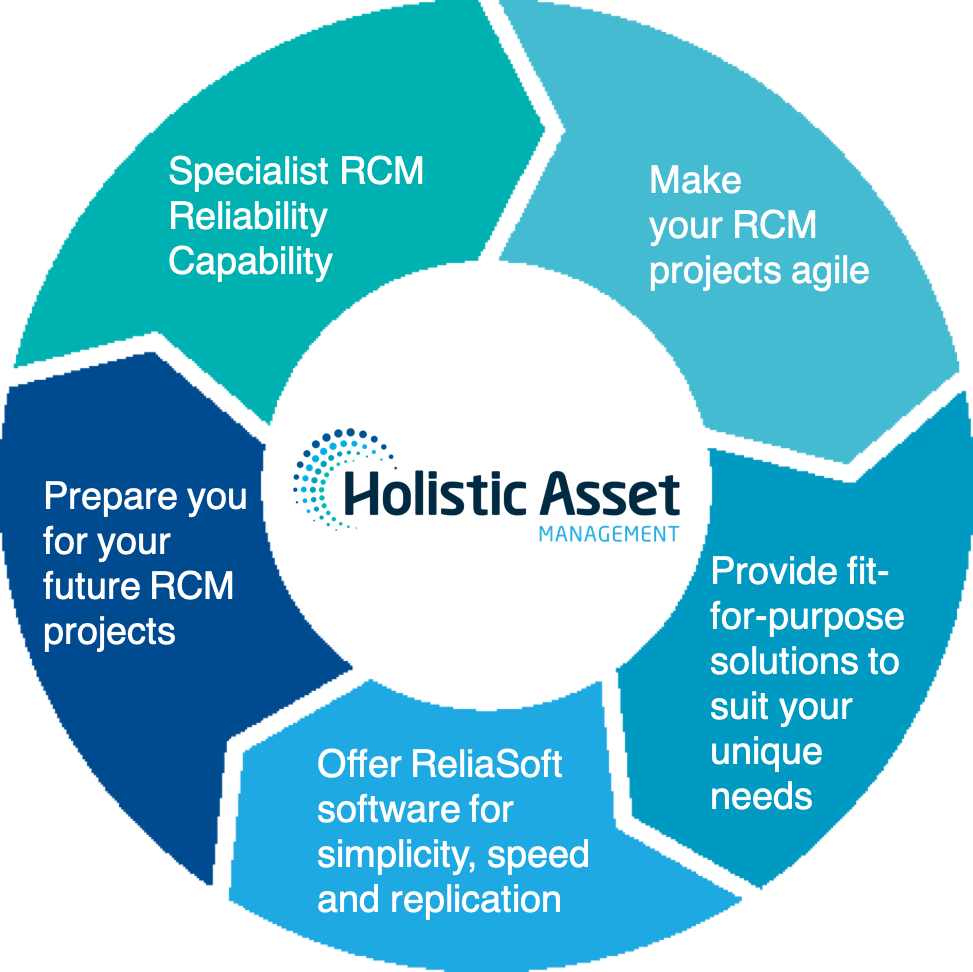 Specialist RCM Reliability Capability
HolisticAM is structured to accommodate all requests of any size or complexity. Our specialists offer a powerful combination of industry expertise, subject matter mastery and dedication to delivering excellence for your RCM projects.
Make your

RCM projects

agile
We have extensive experience in conducting RCM methodologies, which enables us to offer a streamlined process for RCM application and allow for rapid implementation of your projects.
Provide fit-for-purpose solutions to suit your unique needs
We understand that all sites have variation in operating conditions and requirements, so we don't apply a one-size-fits-all approach to building your maintenance strategies.
Offer

ReliaSoft

software for

simplicity, speed and replication
As the exclusive representative in Australia and New Zealand of ReliaSoft Software, we offer good relational database software, such as RCM++, to facilitate your RCM analysis approach for creating effective scheduled maintenance plans.
Prepare you for your future RCM projects
Instead of just focusing on meeting your present needs, we provide support to get you ready for your future projects. We have experienced workshop facilitators to lead and enable the full potential in the team.
Time to unlock the full potential of your RCM!
If you would like to discuss your RCM projects or needs, don't wait! Book a phone call with our RCM specialist!
ReliaSoft RCM++
At HolisticAM, we use ReliaSoft RCM++ software to facilitate the RCM analysis approach for creating effective scheduled maintenance plans, which is an important aspect of an effective asset management program.
RCM++ supports the major published standards and also offers extensive configuration options to fit your organization's particular RCM analysis approach. In addition, RCM++ also provides simulations that can be used to compare maintenance strategies based on cost and availability, and a calculator to estimate the optimum replacement interval. Full-featured FMEA / FMECA functionality is also included.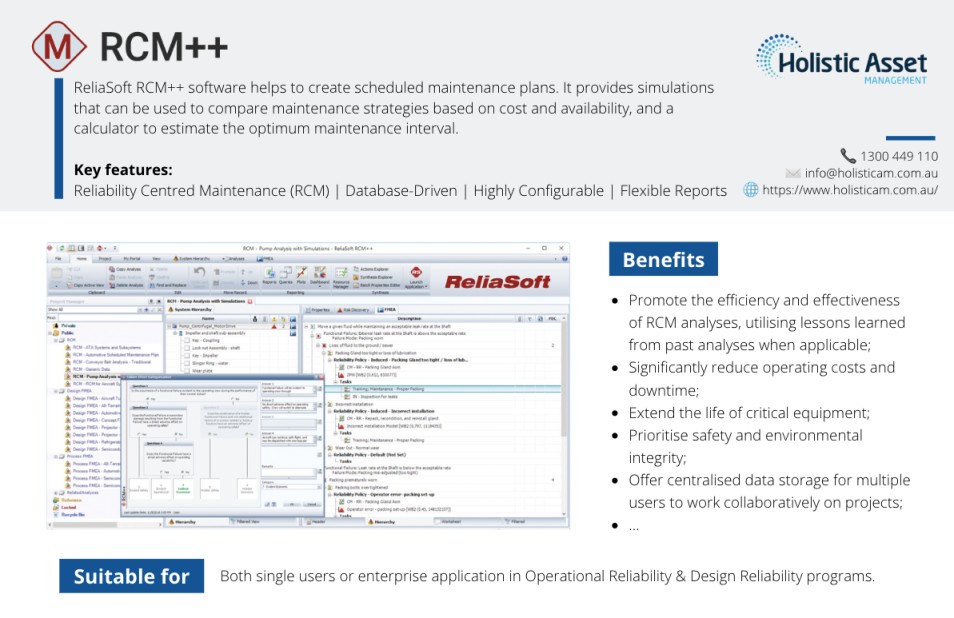 Configurable capabilities
Risk Discovery Questions
: RCM++ is shipped with the selection questions from the MSG-3, NAVAIR, and RAC guidelines.
Risk Discovery Ratings: RCM++ can calculate a rating for each category (i.e., the sum of the ratings for each factor in a given category) and overall for the item (i.e., the sum of all ratings).
Failure Effect Categorization
RCM++ is shipped with FEC logic diagrams from the major published guidelines. It enables you to have 4, 5 or 6 failure effect categories based on your needs.
Maintenance Task Selection
RCM++ can capture the details of the cost of failure, helping you to create a corrective maintenance strategy plan.
RCM++ allows you to group maintenance tasks into "packages" to provide a more efficient resource allocation and the opportunity to group activities so that multiple maintenance activities can occur together.