FMEA and FMECA: Failure Mode, Effects (and Criticality) Analysis
Understand your failure modes and build a living program to optimse your maintenance strategies to prevent failures from reoccurring, with a high level of assurance.  
What is FMEA / FMECA?
Failure Mode and Effects Analysis (FMEA) is a reliability engineering methodology that has been widely applied in many organisations across various industries. It systematically identifies and analyses the possible failure modes of each equipment and component, ranking and prioritising each failure based on its impact and its probability of occurrence.
Failure Mode, Effects and Criticality Analysis (FMECA) takes the FMEA process one step further. It looks at the likelihood and criticality of each failure mode, allowing for a more accurate and robust analysis.
Do any of the following statements resonate within your organisation?
"We have a concerning number of underperforming assets"

 

"

W

e are undergoing a significant change in the operating context or asset component configuration"

 

 

"We need to refine our maintenance plans"

 

 

"We need to improve our asset performance, but our budget and schedule is tight"

 
If any of these statements sound familiar your business could benefit from conducting an FMEA. We can assist you in revitalising your organisation's approach to understanding the performance of your assets that are causing you to feel the pain.
What can

HolisticAM

help with your

organisation's

FMEA projects?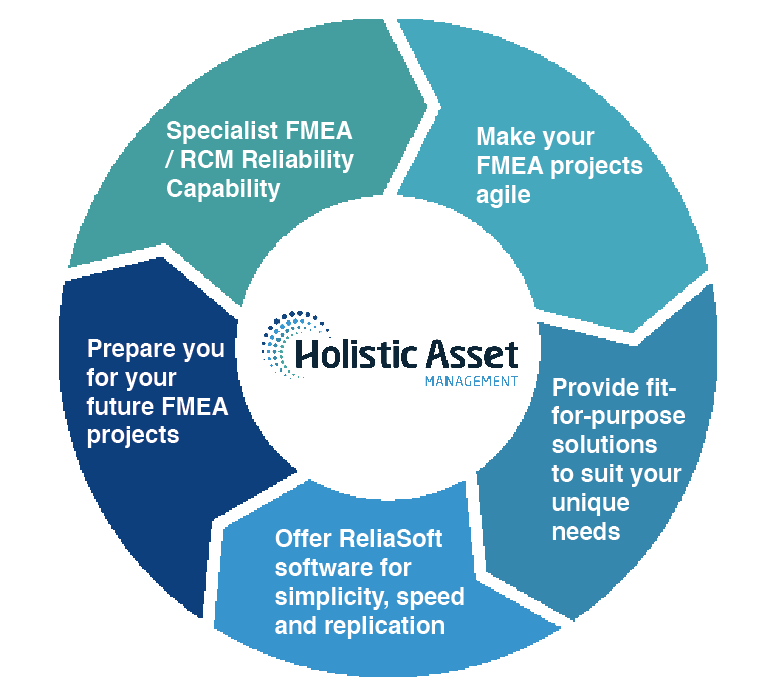 Specialist FMEA / RCM Reliability Capability

 

 
HolisticAM is structured to accommodate all requests of any size or complexity. Our specialists offer a powerful combination of industry expertise, subject matter mastery and dedication to delivering excellence for your FMEA projects.
Make your

 

FMEA projects

 

agile

 
HolisticAM has extensive experience in conducting both FMEA and FMECA methodologies. We have an extensive FMEA Enterprise Library that lists thousands of components with known functions and failure modes. This enables us to offer a streamlined process for Asset FMEA application, which allows for rapid implementation of your projects.  
Provide fit-for-purpose solutions to suit your unique needs
We understand that all sites have variation in operating conditions and requirements, so we don't apply a one-size-fits-all approach to building your maintenance strategies. We use our component FMEA library to build the base case and then apply your sites' unique situation to determine risk profile, frequency, trade requirements etc. 
Offer

 

ReliaSoft

 

software for

 

simplicity, speed and replication
As the exclusive representative in Australia and New Zealand of ReliaSoft Software, we offer good relational database software, such as XFMEA, to optimise your FMEA projects.
With the help of a software tool, you can establish consistency among your organization's FMEAs, build a "knowledge base" of lessons learned from past FMEAs, generate other types of reports for FMEA data (e.g. Top 10 Failure Modes by RPN, Actions by Due Date, etc.) and/or track the progress and completion of recommended actions. 
Prepare you for your future FMEA projects

 
We do not just focus on meeting your present needs for your FMEA workshops but provide support to get you ready for your future projects. We have experienced workshop facilitators to lead and enable the full potential in the team. Also, we offer FMEA training to foster your FMEA team competencies. 
Time to unlock the full potential of your FMEAs!
If you would like to discuss your FMEA projects or needs, don't wait! Book an FMEA phone call with our FMEA specialist!
ReliaSoft XFMEA
In HolisticAM, we use ReliaSoft XFMEA software to facilitate FMEA team workshops/meetings and data management. This tool is praised for its ease of use while offering highly configurable analysis and reporting capabilities.
XFMEA establishes consistency throughout your organisation's FMEA process and makes it easy for multiple users to cooperate on the analyses.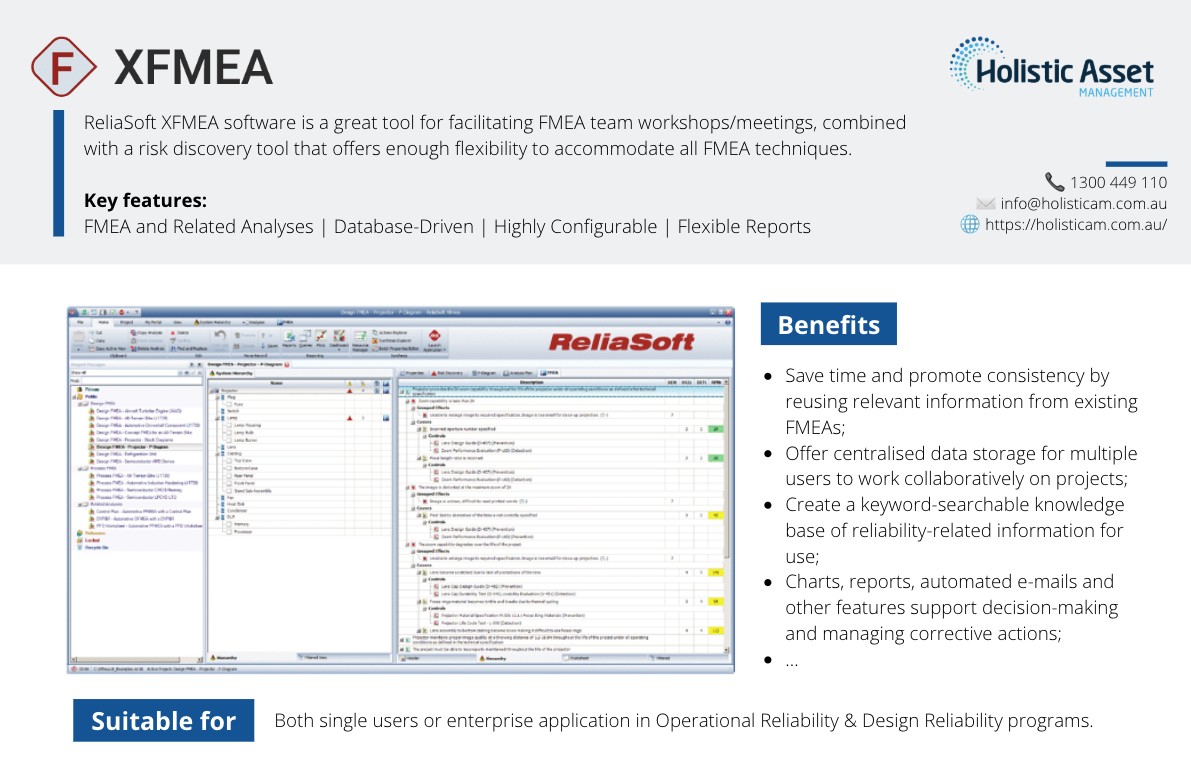 Build your living library of FMEAs
XFMEA provides for the ability to centralise your FMEAs in one location and maintain connections or relationships between analyses. It helps you to easily find, filter, re-use, and manage your living library of FMEAs. As a result, you can streamline the process in developing asset management strategies.
Integrate with other ReliaSoft synthesis applications
XFMEA is part of ReliaSoft Synthesis platform. The centralized FMEA library is accessible with any of ReliaSoft's other Synthesis-enabled applications: Weibull++ for life data analysis, ALTA for accelerated life testing data analysis, BlockSim for system analysis.
Projects that implemented FMEAs